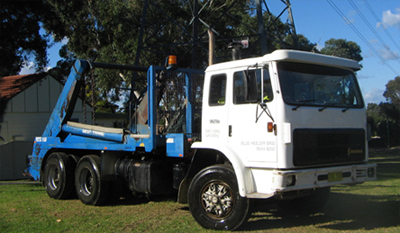 With a flair for fostering business-supplier relationships, our company deals in waste removal process for the Grays Point area. Blue Heeler Bins is a leading provisioner of industrial waste removal services, with a track record that spans 25 years We have a no tolerance attitude towards breaking the law, and ensure all our process follows full compliance with local government.

Initially Gray Point's preferred provider of industrial bins, waste removal and other services, we have expanded our operations to a large range of industrial service area. One of our expanding lines of work is the skip bin hire. This one way to access to an industrial-quality disposal unit that can assist with large-scale waste removal after a special event, or as part of regular disposal processes.
Our business ensures your waste is removed in an environmentally friendly manner. We manage safety disposal of large objects, and our trucks are fitted with cranes for ease of deployment in Sandy Point. This is how we duly supply two-, three and four cubic metre bins to our clients, even in hard to reach areas.
Our gold standard customer service and professionalism in dealing with waste removal ensures we are always well-stocked in a range of quality bins. To properly dispose of your waste, we have specialised machines equipped with the latest tracking and technology, and ensure that we always honour our commitments to our clients.
With repeat business and streamlined process making up the majority of our sales, we understand how important it is to build brand. That's why Blue Heelers operates a best cost price and service model for your convenience. Environmental sustainability and following best practise is absolutely imperative to our business.
To get in touch for waste removal services in Sandy Point, simply give us a call today.